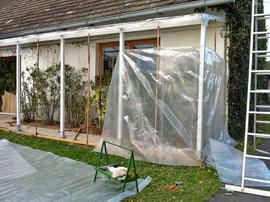 It 's supposed to get colder during the next few days, down to -6 C (21 F) also frost during the day and snowfall. Therefore, it's time to convert the pergola into winter quarters and bring out the plastic sheeting. Who knows how cold it will actually be – it's November 30th, anyway! 
---
Oleanders along the front wall of the main house

The protective sheeting will be applied to the prepared framework. This way, the oleanders will still be easily accessible. The sheeting and framework will be provided with a Velcro closure. 
---
Oleanders planted out in the open field

The tentlike structure, which had already been used the previous winter, is set up again. The sheeting has been cut to fit a hexagonal pyramid; a Velcro closure will serve for easy access.