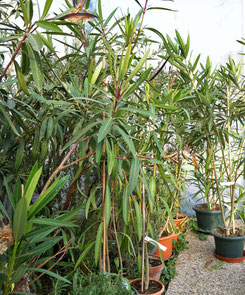 It appears that winter is over. As predicted in the weather forecast, it has really gotten warmer. It's mild during the day and not going below freezing at night. Everything is OK in the plastic-sheeting house along the south wall in the yard. Larger oleanders in pots have already been placed under the arcade; small potted oleanders have now been moved in here so that they can receive a lot of light and warmth.
---
Oleanders on the front side of the main house

The inner protective sheeting has already been removed; I will leave just the large plastic sheets in place for a few more days. On the whole, the oleander on the left looks good. The bush on the right, admittedly, has taken a bit of a beating.  Clearly, it sometimes got too cold around the drafty corner of the house; some leaves were damaged by frost and are now dried out. The wood of the twigs is OK.
---
Oleander planted out in the open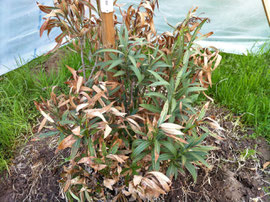 The oleander bush in the open meadow under the worst conditions. In addition to the unprotected location, the roots have been standing in water for four weeks now! It has also incurred frost damage; a lot of leaves are dry and withered – but only leaves – not the canes. The little frost monitor was not sufficient or was set too low. The inner plastic sheets and the cardboard have been removed; the plastic tent will remain standing for a while.